A Currency of Hope – DA's "textbook"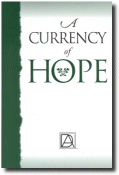 Debtors Anonymous has published its first book, "A Currency of Hope", and it is available at our DA meetings at a nominal price of $12.00 each. DA's recovery "textbook" contains the basics of the Debtors Anonymous program of recovery, as well as a collection of personal stories submitted by D.A. members. These personal stories illustrate the member's experience, strength and hope by describing "what it was like, what happened, and what it is like now" by using the tools and following the principles of the DA program. These testimonials are very powerful and have given a sense of hope and promise to many debtors who believed that their own situation was insurmountable.
"A Currency of Hope" and other conference approved DA literature are also available on line from the Debtors Anonymous General Service Office.
DA and Other Recovery Site Links
Here are some links to other websites, and inclusion of these links is intended to be a convenience for those who visit our site. Such inclusion does not constitute any endorsement by, approval of, or affiliation with either the Dallas Debtors Anonymous group or the Debtors Anonymous General Service Office.
Heading to the Dallas area and want to attend DA meetings up there? Check out the meeting schedules, get maps, etc by visiting http://prosperityintergroup.org.
Travelling to Austin and want to attend a DA meeting or two? You can find meeting times and places by visiting www.main.org/debtorsanonymous/